Campground Rules
Limehurst Lake Campground
"Where Family & Fun Are Our Priority"
When staying at Limehurst Lake Campground please observe the following rules: 
Absolutely no transported (out of state) firewood.
No minor children left on the campground without supervision. Adults must supervise their children at all times! Swimming in swimming area only! Adults are responsible for their minors/children's behavior and safety.
Chidren and teenagers must be at their site by 10pm and visitors must be out by 10pm.
Please do not deface or misuse equipment or improvements supplied for your pleasure.
Quiet time is 10pm to 7:30am. Please respect your neighbors. 5mph through park. There are children at play and families out walking.
All pets must be kept on leashes at all times. Dogs are not permitted on the beach or in the picnic areas. If you leave the campground, please take your dog with you. Owners are to clean up after their pets. No pets allowed without up to date rabies vaccination paperwork and dog tags are not acceptable. Dog park is available for the dogs to be free and play. Do not walk pets in trailer park.

Please do not cross over occupied camp sites. Drive slowly through campground. Speed limit is 5mph.
Please do not tie ropes, chains, or leashes around our trees or picnic tables. This includes hammocks, tents, clotheslines, etc.
Firewood, bags of ice, and LP gas refills are available at the store/office.
Visitors to the campground must pay an entrance fee. Seasonal passes are available for your guests. Please inquire at office.
We strive to keep our restrooms clean, please help us. If you see something that needs attention, please let us know at the office.
Check in time is 1pm to 7pm. Check out is 11am.
Beach opens Memorial Day – Labor Day (10am – 7pm) Swimming in buoyed area only.
No washing of RVs, vehicles, etc. allowed.
If for any reason you are asked to leave at time of registering in at office or choose to leave early, no refund will be given.
Rules to the campground and beach are there for safety and enjoyment. Anyone not abiding by the rules will be asked to leave.
Please no outside boats, canoes, or rubber rafts/floaties allowed in water except those rented here.
Please recycle. It's the law. Dumpsters are located at the main entrance for your convenience.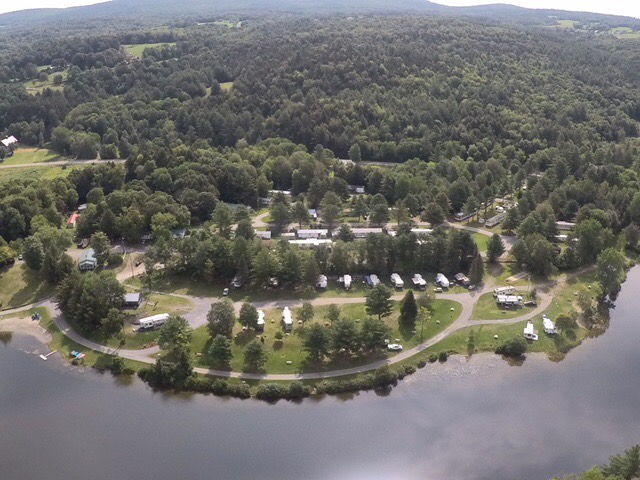 Emergency Numbers
Ambulance/Fire: 911 or 802-476-4111
Hospital: 802-371-4100
Police: 802-229-9191
*The management reserves the right to refuse service to anyone, this is a privately owned campground.*