Campground Rules
Limehurst Lake Campground
"Where Family & Fun Are Our Priority"
When staying at Limehurst Lake Campground please observe the following rules: 
Campers
No car camping. All campers must be RVIA rated.
General
Check in time is between 1pm and 7pm. Please call us if you are running late.
Check out time is 11am.
Quiet Time is from 10pm to 8am. Snack bar located in the Store/Office.
Trash/ recycling dumpsters are located at the entrance/exit to the campground. No trash pick-up. No need to sort recycling, just separate from trash and put it in the appropriate dumpster.
Free Wifi is not intended for streaming or work from home activities.
Pets
Pets are welcome! Pets must be leashed and you must clean up after your pet. Pets are not allowed on the beach or pool area. All pets must be up to date on their vaccinations. Aggressive or barking dogs will not be tolerated.
Children
Campers under the age of 18 must be on their own site by dusk or accompanied by a guardian or parent. Parents will be responsible for any damages caused by their children.
Camping
Please do not walk through occupied sites.We strive to have a clean and safe campground, please let the office know if you have any concerns about safety or cleanliness. No ropes , ties, chains or clotheslines on the trees. No washing of vehicles or RV's. No slip -n- slides or hot tubs. No fireworks or discharging of firearms. No Four-wheelers, dirt bikes or golf carts allowed.
General Admission / Speed Limit
Visitors are required to pay an entrance fee. All visitors must leave the campground by 10pm. Please do not move the fire pit on your campsite. No out of state firewood allowed. Speed Limit 5mph.
Beach
Beach is open June 1 to Aug 31 from 10am – Dusk. No night swimming. Swimming allowed in the buoyed area only. No floats/tubes or outside boats allowed.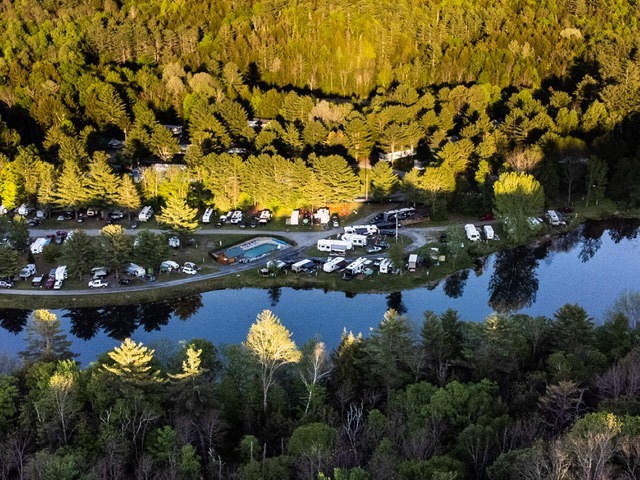 Emergency Numbers
Ambulance/Fire: 911 or 802-476-4111
Hospital: 802-371-4100
Police: 802-229-9191
*The management reserves the right to refuse service to anyone, this is a privately owned campground.*